Enrico Coen
Shapes fascinate scientists and artists alike. Scientists would like to know how diverse shapes arise, from snowflakes and sea shells to flowers and faces. Artists would like to capture the beauty of shapes they see in their surroundings and imagination. These different perspectives of scientists and artists can illuminate and inspire each other, as illustrated by recent visits between our research group and artists Rob Kesseler and Jonathan Keep. When Rob's MA Art & Design students from Central Saint Martins visited our lab in Norwich, each group expressed their fears. The MA students were worried they wouldn't understand any of the science, while the scientists worried that the visitors would be bored by what they did. Their fears proved groundless as each learned how their passions, approaches and interests were much closer than they had realised. And in a visit from our group to Jonathan Keep's pottery studio, the practical experience of moulding forms in different ways was a source of fascination and joy that led to a better understanding of floral forms. Both the spirit and some material objects that emerged from these interactions are illustrated by our joint exhibition ""Self-made Shape"" at the Royal Society.
Enrico Coen is a research scientist at the John Innes Centre, Norwich
Rob Kesseler
Artists and Designers have been inspired by plant growth and organic form for many centuries and now the emerging territories of microscience and genetic profiling are opening up new territories to be explored. During the past two years I have collaborated informally with Enrico Coen to explore this potential, creating model forms and prototypes in glass and ceramic. Working from developmental animations of plant growth developed in the lab, I have applied similar principles to create a collection of glass vessels.
The characteristics of hot glass stretching and thinning as it is blown and subjected to pressure from the glassmakers tools seem to mirror the conflicting and dynamic forces in the plant.
To extend this dialogue, meetings were set up between our MA Art & Design students from Central Saint Martins and team members from Enrico's lab in Norwich, to foster a deeper understanding across disciplines that could open up meaningful opportunities to extend knowledge at the cutting edge of their respective disciplines.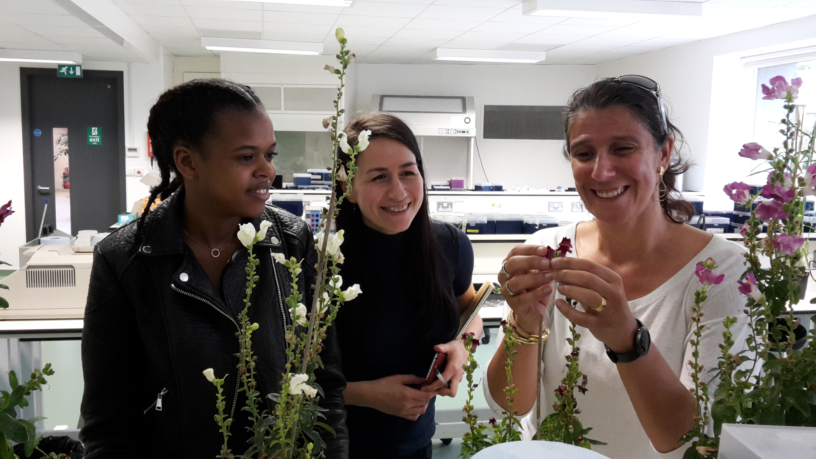 Rob Kesseler is Chair of Arts Design & Science at Central Saint Martins, London www.robkesseler.co.uk.
Jonathan Keep
THE FORM IS IN THE CODE
My artistic interest is in form and the relationship between the beauty in natural form and artistic or sculptural form. Considering our aesthetic appreciation of beauty has evolved out of the same natural systems and process this connection is not surprising. My informal ongoing collaboration with Enrico Coen's Lab has been to bridge this knowledge of plant development and artistic creation.
In my own ceramic work I have developed a working method where my pots are grown or generated in computer code and then made with a self developed studio based ceramic 3D printer (see Pottery and plants). The printer, better described as a computerised pottery coil building machine enables me to get the virtual form out of the computer and into the physical world. The Enrico Coen's has developed a plant tissue growth interactive software tool that is used to understand how polarity genes act to produce novel shapes. I have been using this software to then make sculptural forms that are influence by the research of the lab. In my artworks I have retained the fingerprint of the computer 3D mesh facets on the surface of the form to offer the viewer an insight into the process of creation. This importance of the conflict in the process of how shapes are formed is something myself and the lab have explored further in two toned clay forms where the colour reveals the technique of formation.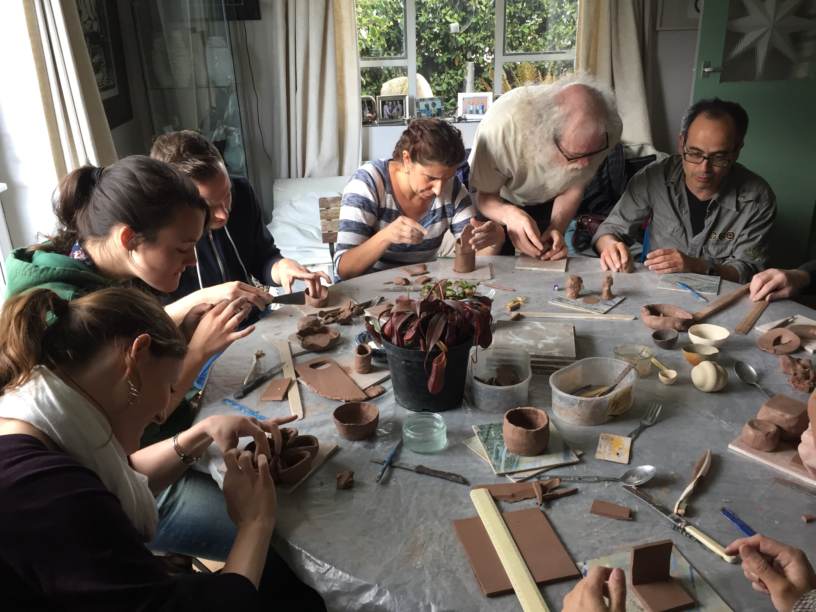 Jonathan Keep is an Artist Potter http://www.keep-art.co.uk/journal_15.html.